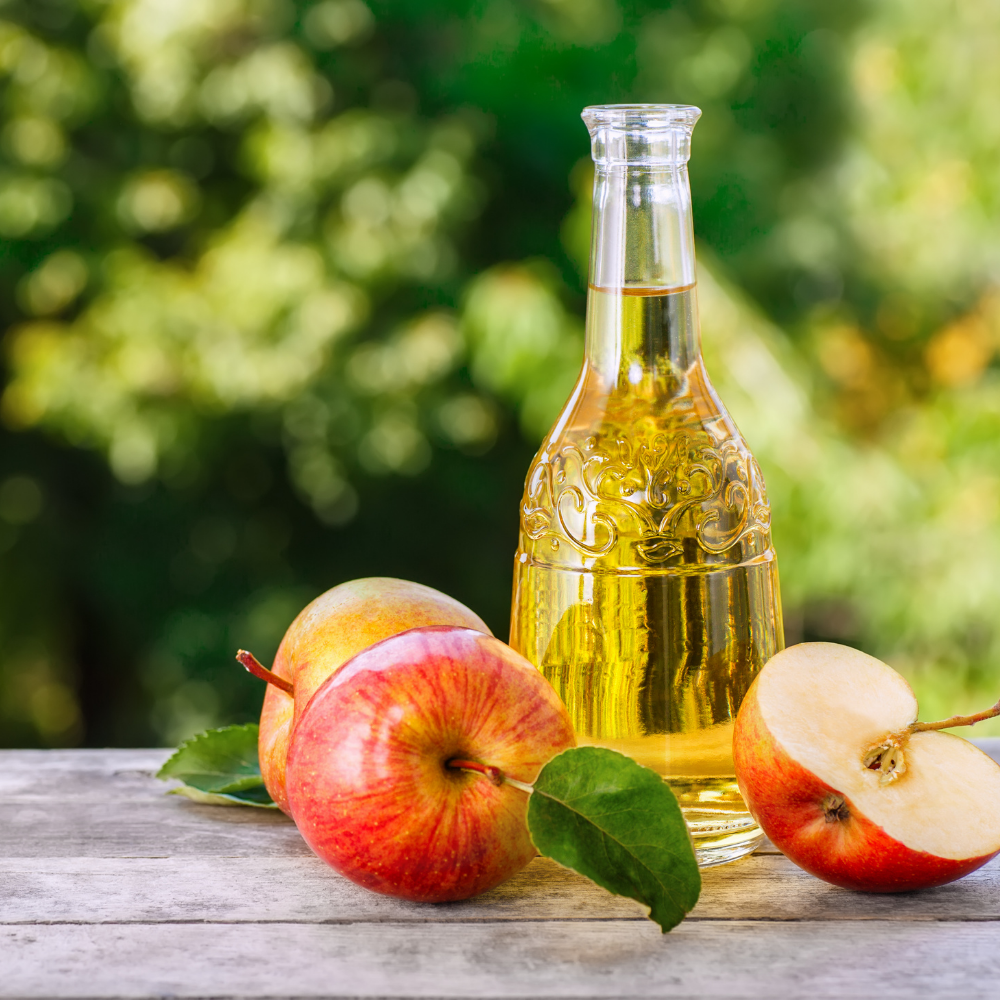 You may have seen apple cider vinegar popping up all over social media as the next big health kick. Influencers and celebrities may have tried to sell you an apple cider vinegar product at some point. However, you may be wondering, "Why are people drinking vinegar for health?"
Apple cider vinegar is considered a cure-all for many types of health conditions including obesity and diabetes. It has been around for thousands of years and is considered a natural remedy for many of life's ailments. Apple cider vinegar's rise in popularity is largely due to its natural healing properties and various health benefits. Trust us, this trend isn't going anywhere. Buckle your seatbelts and let's dive into what makes apple cider vinegar so great and the various ways to consume it.  
What is Apple Cider Vinegar?
Apple cider vinegar is made from the process of exposing crushed apples to yeast and fermenting it. Through this process, the natural sugars ferment and form alcohol. This alcohol is the kind you'd buy at a hipstery pumpkin patch where it's labeled as "hard cider." The alcohol is fermented a second time and forms the final product of apple cider vinegar, your average household product.
Aside from the more well-known benefits, apple cider vinegar is a powerhouse for micronutrients. For example, apple cider vinegar contains vitamins B1, B2, B6, niacin, folic acid, biotin, pantothenic acid, and vitamin C. Along with these micronutrients come trace minerals such as magnesium, iron, phosphorus, manganese, amino acids, and antioxidants. These micronutrients are essential for healthy living and can prevent disease if consumed regularly.
Benefits of Drinking Apple Cider Vinegar
Apple cider vinegar is like baking soda - it has a million uses and is most likely already in your house. There are so many benefits to drinking apple cider vinegar that it's no surprise why people are jumping on the bandwagon. Some of the internal benefits are weight loss, improving gut health, lowering cholesterol, lowering blood pressure, and improving heart health. Some of the external benefits of consuming ACV are a reduction in acne by applying ACV as a toner, preventing dandruff, and soothing sunburn. Honestly, we're about to bathe in apple cider vinegar at this point.
ACV aids in weight loss because it increases your satiety cues, burns fat, and helps you feel more full. Apple cider vinegar improves gut health because it can reduce bloating from inflammatory foods, contains natural probiotics, and reduces acid reflux. Due to its natural antioxidants, ACV lowers bad cholesterol and increases good cholesterol. Because of its anticoagulant properties, apple cider vinegar can help lower blood pressure and the risk of heart attacks and strokes. Who needs a doctor when you can drink ACV? We're kidding, obviously.
Best Ways to Drink Apple Cider Vinegar
You may have seen people taking straight-up shots of apple cider vinegar like you would a shot of whiskey. However, this method isn't for everyone. Similar to how some people prefer to sip on a glass of wine rather than take a shot, slowly consuming apple cider vinegar is a great way to incorporate it into your daily routine.
Out of the thousands of recipes we've seen on the internet, there are a few that hit it out of the park. For example, you can add apple cider vinegar to salad dressing as a way to help indigestion. If you're not a coffee drinker, add some ACV to your morning tea to give you a boost of energy. Feeling under the weather? Take some apple cider vinegar and mix it with honey to make a soothing concoction. Don't want to drink apple cider vinegar at all? Take some daily ACV gummies and reap all the health benefits of apple cider vinegar without drinking it. There's no limit to what you can do with ACV.
Takeaway
If you haven't jumped on the apple cider vinegar bandwagon, now is the time. It's not a fad that will die out in a couple of years. Apple cider vinegar has been around for thousands of years and it's not going anywhere. It's easily accessible and there are so many health benefits that it's hard to pass up. No matter how you consume it, apple cider vinegar can help you feel and look your best. Start living your best life today with apple cider vinegar, the household hero.
How about an EASY addition to your day?
Check out our 15 DAY -  ROUTINE RESET!
We will guide you down a 2-week journey towards better health and hydration at the cost of only a couple of minutes per day! So if you find yourself looking for more energy, less bloat, and a clearer mind...
Click here, and let's begin the ROUTINE RESET!